B&B
We have 'Bloodgood', 'Burgundy Lace', 'Emperor One', 'Sango Kaku' and 'Orido Nishiki' balled and burlapped. We have trees in 3 inch and 4 inch caliper. We do have a good supply of Bloodgood in 3" size. We can arrange for shipping to most areas of the Mid and Eastern United States. We sell wholesale and retail.
Contact us for availability and pricing on our B&B Japanese Maples. We encourage appointments for landscape architects and home owners interested in tagging their own trees.
Acer palmatum 'Bloodgood'
The Bloodgood cultivar is one of the most hardy Japanese Maples. With red/purple foliage coloration capable of withstanding full sun conditions, it is an ideal Japanese Maple for specimen landscaping. Available in both tree and multi-stemmed clump forms, the cultivar is striking with its scarlet fall coloration. Capable of reaching 15-20 feet in height and width, Bloodgood Japanese Maples have a slow to moderate growth rate, and are typically disease and insect free.
| Stem Caliper | Quantity |
| --- | --- |
| 2″ | 156 |
| 2.25″ | 140 |
| 2.5″ | 77 |
| 3″ | 20 |
| Clump | 63 |
Acer palmatum 'Emperor One'
Acer palmatum 'Sango Kaku'
The Sango Kaku Japanese Maple (also called Senkaki, Sango-Kaku, and Sangokaku) is a common cultivar often praised for its brilliant coral fall and winter color of the young stems. New leaves are typically reddish tinged, becoming light green in summer. During the fall, leaves turn a striking yellow gold with light red overtones. This cultivar makes an excellent specimen tree and will grow 20 to 25 feet high and 18 to 22 feet wide upon maturity. Growth rate is slow to moderate.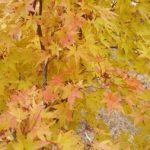 Acer palmatum 'Burgandy Lace'
Burgandy Lace Japanese Maples are well-known for their attractive leaves and form. Reddish purple when grown in partial shade and purple-bronze in full sun, Burgandy Lace leaves have sinuses that cut almost to the point of lobe attachment, making for an eyelash-lace appearance. Burgandy Lace Japanese Maples make excellent corner foundation trees with their rounded slow-spreading crown and bush-like branching. The cultivar also offers rich red fall color and a slower growth rate.