ABOUT US
Since the late nineteenth century the Boyd family has been providing quality plants to customers around the world. At one time the third largest provider of nursery stock in the world, Boyd Nursery Company is still family owned and operated. Fernando Campbell Boyd III is a fourth generation nurseryman. Boyd Nursery Company is also a proud supporter of the Children and Adult Mobility Project (C.A.M.P.) charity.
J.H.H. Boyd, Nurseryman & Seed Collector
On February 11, 1861, Jonathan Henry Harrison Boyd was born to Fernando Campbell Boyd and Jane Winchester Boyd of Roane County, Tennessee. As the nation moved towards Civil War, Fernando Campbell Boyd moved his pro-Union family to Albany, Kentucky and stayed there until 1868. Following their return, JHH moved with his family yet again to Bledsoe County and later Sequatchie County where his father bought a small farm with a loan. After his father's untimely death in March of 1871, JHH and his three brothers – Daniel Dueast, Ballinger Wright, and John Campbell – were left to pay the debt on the family farm. Successfully purchasing two farms through the 1870s, JHH moved to the Cagle community where his initial interest in plants was piqued by the strange death and illness of grazing cows in the area where he lived…
The Boyd Brothers Expand
Having established a successful nursery industry in Warren County, the next chapter of the Boyd success came under the leadership of JHH's two sons, JR and FC. Living with their parents in Sequatchie County the first few years of their lives, the two brothers moved in 1892 to the nearby home of their Granny, Mrs. Elizabeth Jane Winchester Boyd (1837-1924), after the death of their mother. Granny Boyd taught the children proper manners and instilled a good sense of morality. She had been a schoolteacher and was a strong Christian woman. JR and his brother moved with their father to Irving College, TN, in 1904…
F.C. Boyd III & Boyd Nursery Company, Inc
Following the death of FC Boyd Sr. in 1960, the leadership of the Boyd Nursery Company passed to his sons Henry N., J. Austin, FC Boyd, Jr., and Clark C.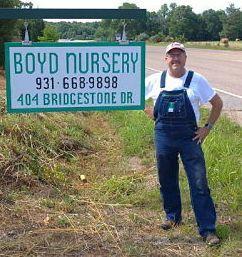 Under the leadership of this new generation, Boyd Nursery Company continued to produce quality nursery stock until the sale of the company in 1973.
Despite the sale of the company, the nursery continued to operate, and in 1976, the company reformed. Operations continued until the death of Henry Boyd in 2001. At this time Boyd Nursery Company was purchased by FC Boyd III. Campbell brought Boyd Nursery Company into the modern age. Taking a charge to continue providing quality plants at reasonable prices, Campbell has followed in the footsteps of his ancestors. Working throughout the year, Campbell, and his son Justin, continue to propagate and ship nursery stock for both wholesale and retail customers.
Our Family Heritage
Following the unprecedented level of success achieved by JHH Boyd and his establishment of the nursery industry in Warren County, the Boyd family experienced a significant amount of growth and prosperity, and like the branches of a tree, many members of the Boyd family went on to establish successful nurseries within the Middle Tennessee area. Some of these nurseries, such as Flower City Nurseries and Boyd & Boyd Nursery, continue to prosper today, providing excellent plant stock and service. We at Boyd Nursery Company continue to work with these family nurseries and encourage family unity. Below you will find their official links and we encourage you to explore their websites and share in our heritage.
Check out our Catalog History!